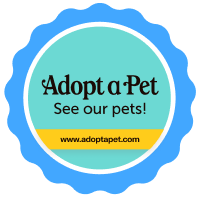 Interested in adopting a Sparkle kitty?
Find our application here

Once your application has been approved, we will contact you to set up a meet 'n' greet at a foster home or in your home.

We do NOT have a facility for the public to meet our kitties.

Our address is our locked mailbox only.
​
All adoptions are by appointment only, and only with an approved application.

ADOPTION FEES:
Kittens up to a year old: $100 each or $175 for a pair
Adult Cats(over a year) $85.00 each

For their safety, all kittens, regardless of age must have had their 2nd FVRCP booster before they can go to their adopted homes. Boosters start at 8 weeks of age so minimum age is 11-12 weeks old.

​Please note we ALWAYS take our cats back if they do not work out in the home. We strive to find lifetime commitments for our kitties, who have been loved and well-taken care of by their foster families. Please do not rehome cats or kittens you get from us - even to a family member. There is a reason we have an adoption application process.

The adoption fee includes a combo test for FIV and FeLV, deworming, flea preventative applied while in foster care, kitten boosters (series of three) or adult FVRCP vaccination, rabies vaccination, spay/neuter, microchip (we use Petstablished mini chip)

As part of the adoption process, Sparkle Cat Rescue requires:
- A complete adoption application submitted via our website or at an adoption event. We do not do same-day adoptions.
​- Adopters must be 21 years of age.
​- Landlord approval for all applicants leasing or renting their home.
​- All adopters must sign a contract agreeing they will not declaw their cat or physically alter their cats in any way.
​- We reserve the right to perform a home visit prior to adoption approval.
​- All cats must be INDOOR cats only.
- You must be able and willing to spend the time and money necessary to provide training, medical treatment and proper care for a pet for the entire life of that animal.
- All current pets (cats, dogs) must be current on their vaccinations.
- Adopter must own a cat carrier. All cats must be transported in a pet carrier.



After viewing our adoptable cats on petfinder.com, please complete a full application via our website

IMPORTANT COVID-19 ADOPTION PROTOCOL

​As of 3/26/20 we are screening applications with this protocol in place. Adoptions may take longer due to the current Covid-19 situation.



Adoptable cats available for virtual meetings are based on the foster homes that are available and willing to virtually meet potential adopters onl

ine through FaceTime or Facebook Messenger Calls.

No meet n greets will take place at foster homes/adopter homes/public places.

Please be patient with our adoption coordinator while they screen applications. Our adoption coordinator is all-volunteer and works a full-time job. Applications are screened daily.

IF you apply to adopt with us and find another cat at another organization and adopt them, please be courteous of our time and message us to let us know before we spend a day or two on your application.

We have many other things going on at the rescue so if you find another cat we would like to be able to discontinue working on your application so we can focus on other things.



We screen ALL applications - vet references, personal references, etc. Be sure your information is accurate to decrease the amount of time we have to spend getting answers to information that is missing or information we find out when calling vet references - i.e. cats or dogs you have that are not listed in vet records OR cats and dogs we find out are listed at the vet that you haven't listed on your application.

Once an application is approved by our adoption coordinator (hopefully within 24-48 hours if during the week), it will be forwarded to the foster home who should contact you as soon as possible.

ADOPTION PROTOCOL FOR APPROVED APPLICATIONS:
- VIRTUAL Meet n Greets: The foster(s) for the kitty or kitties you are interested in will reach out to you via Text Message or Email to set up a time to do a Virtual Meet n Greet (FaceTime or Facebook Messenger Video Cal) and chat with you about the kitty you are interested in, to see if it is a good fit for both the cat and for your home.

After the virtual meet n greet / text messaging / phone calls:
After the foster has talked with you and we feel it is a good fit for the cat and for your home, the foster will make arrangements for you to pick up the cat or for them to deliver it to you (depending on where you live).

​- Adoption paperwork can be sent electronically. Paperwork MUST be signed and the adoption fee MUST BE paid before an adoption can be coordinated.

- The foster will advise adopter of food and litter, and habits of cat and instructions to help cat settle into new home environment.

- Adopter should have a quiet room set up with new kitty to help them adjust to a new home environment (especially if there are other animals in the home).

​- Adopted cats should be kept separate from other animals for 1-2 weeks and alternate new cat and resident cat(s) being out in the home. (i.e. resident cat put up while new cat allowed to roam house - depending on if there is a dog in the home).

- There should be NO face-to-face personal contact with the foster parent(s) or adopter during the transfer of the adopted cat(s).

- Any carriers that are brought to the foster or to the adopter should be sanitized before and after being handled.

- The foster may opt to wait in their car in the adopter's driveway for up to 20 minutes after the kitty is dropped off so they can be sure everything is okay.

- Our fosters (and our adoption coordinator) are available to text or call and answer any questions before and after the adoption. We love and really appreciate updates!
​
- Within 24 hours post adoption we ask that you provide updates to the foster of how things are going - and continue to provide updates over the next week or so after adoption.

KITTY NOT WORKING OUT?
- If, for any reason, an adoption is not working out and it's not the best for the cat and for you, we ALWAYS take our cats back - no questions asked. It could be 1 year - 2 years - 3 years or more. They cannot be adopted to family members or friends. They must be returned to Sparkle Cat Rescue for us to rehome them.

Adoption fees are refundable only if a Sparkle cat is returned to us within 2 weeks of adoption.
---
---
Sparkle Cat Rescue is proud to be partners with Pet Smart Charities.


---
©2021 Sparkle Cat Rescue, Inc.